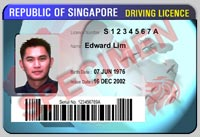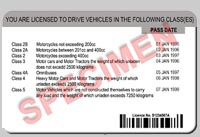 Obtaining an additional Class of licence
Upon passing your Traffic Police practical test, if you are an existing QDL holder, you do not need to apply for a new QDL.
You can obtain an endorsement for the additional class(es) of driving licence(s) on your existing photo-card driving licence. Your Driving Tester will affix an endorsement sticker at the back of your existing photo-card driving licence. Endorsement for additional classes of driving licences is free-of-charge.
You can get a new endorsement sticker at Traffic Police HQ if your endorsement sticker has been detached from your QDL or is defaced/torn. The new endorsement sticker, which will be affixed onto your existing QDL, is free-of-charge.
Replacement of Qualified Driving Licence
All Singapore citizens and permanent residents can apply to replace their QDL online if your QDL is lost or damaged. If you are not a Singapore citizen or permanent resident, you can only apply for a replacement QDL in person at Traffic Police Headquarters.
The fee for replacement of QDL is S$25. Payment can be made by e-NETS/Visa/MasterCard/Debit card. The payment receipt serves as your temporary driving licence. Your replacement QDL will be mailed to you within 7 working days upon successful application.
You do not need to submit a new photograph for online replacement of your QDL, Your existing photograph in Traffic Police's database will be retrieved and printed on your replacement QDL.